CIVIL COPING MECHANISM FOR THE DUALITY OF SHARING
AND THE IMPORTANCE OF SECRETS, IN LIFE AND, DUH,
THEREFORE, IN LANGUAGE
for Jake L'Ecuyer
Double binary sun,
Who knows what myths you are to someone
Somewhere far out in the universe?
Licking eyeballs and filming it,
This is a love song to filling lungs slowly and completely.
You shouldn't share the meaning of life with anyone
Because it's too destructive;
Tell them it's to learn to speak and to listen.
Don't tell them the truth you have to click here to see:
The meaning of life is the meaningful faff.
Eating fast food in the parking lot of Walmart. Repairing a motorcycle in the driveway.
Holding your baby daughter's hands so she can stand. Texting in traffic.
You made love with the blinds half open. You saw the awning of a cash for gold outlet
Draped in icicles, light
A prismatic salvo needling the air like a poke tattoo in America basements beneath
The snow.
New nature fingers
New nature.
A song came on that made you move.
Poetry about outer space and exploded stardust making matter.
And hard to say, but so much open meadow breeding ground
For terror.
Hard to say what,
But
Something uncanny falling upon
Us.
CIVIL COPING MECHANISM FOR CANS
"Heart Healthy" is the nice way of saying "flavorless and awful"
Like how something identifying as a "lifestyle brand"
Is a nice way of saying
"Even though I am lost unto myself, I ask that you replace yourself with me.
It is in this strained overpatching I hope to find the agency of flavor."
"Shrimp Nibblers: 99¢" is a nice way of saying "Beware all ye who enter here,
Because I cannot help who I am, and I will always return to that shape."
CIVIL COPING MECHANISM FOR FREEDOM
for Jake Hopes
Couldn't you stare into the abyss forever until it trembled?
That would be cool, yeah, ooh.
It's funny to see rails along parts of the Grand Canyon.
That's what people do: this level. Auger down and charge for it.
Build civilization around hypnotics.
OMFG, how nature can and does just push us over.
But how selfish to worship a god made in the image of the human.
Super f'd up.
If one wants to serve god, one must serve the natural way.
To serve without a master god? Why,
​It makes it feel as though god isn't watching out for us,
Boo hoo HOO.
But we do know the natural way god wants for us has nothing to do with the human.
The way a carrot breaks, the way it longs to be cut. The way a banana peels.
The seeking of water and those levels.
The games' hivemind.
It's our job to cultivate the natural way,
Not to disobey it.
If you want to be free,
You've got to look inside.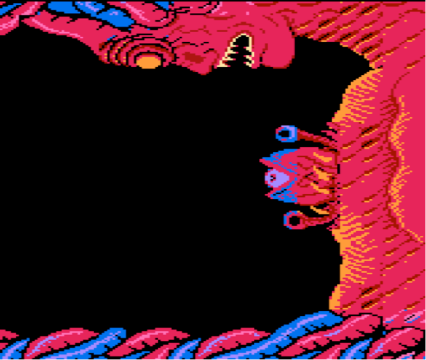 ___________________
i. Abadox (NES)

CIVIL COPING MECHANISM FOR THE DEAD
We serve the dead.
The founding fathers and their nigh alien world;
A job market of handwritten skill and notes.
Discarded phraseology and other lights of stars long exploded we still see in the Sky.
We serve the rules.
This is how it was for me: Hard,
And it will be so for you,
Amen,
The system.
We serve boxes.
Products, produce, freshness; offices, rooms, beds, desks; coffins.
OMG the fucking rules! The colonialism we prop up! Omg,
Games help establish this pop-up doom! "According to this principle, the future exists 
Only in the shape of our present apprehensions and hopes, and the past merely as 
Memory. In a different view, the world and everything now living in it was created only 
Moments ago, together with its complete but illusory pre-history."[1]
OMG
How many souls we've harvested.
It's repetitive and stifling!
It's exhausting serving the dead!
---
[1] W.G. Sebald, The Rings of Saturn
Russell Jaffe is the founder and editor of TL;DR magazine (tldrmagazine.com). He and Carleen Tibbetts and their poetry child with the power of 1,000 suns, Celestine, live in Oak Park. He teaches at Fusion Academy and makes literary study guide videos for Course Hero. He likes seltzer. Drenched in purpose, death has changed his class; "I am the Disciple. This is the end." -The Disciple, from his entrance video in WCW/nWo Thunder, PlayStation game, 1998.