&
                           I'm on to everyone's imaginable shit     
             I mean I'm on that that 
                                        thing you're on I'm on   
the on-ness you put me on the   
                                        ontology of oracular devices I'm       
            on the on-site head on    
                        each and every one I'm on     
            my hone and on the nail      
                                                    hitting on my own self  
                                      and its –ishness irregardless   
                          of thank yous and  
                                        acknowledgement my known
                          and know nothing-ness is on it    
                                       and your honor I'm honey
                                                                                combed      
                              Shot Screen
                             slept in sleeping over 
              underslept the murmur
                                         -ing ringing of fear-alert
on highways the very still feeling
                                           of awakenness breaking  
               over windshields and not moving
                             while crashing while cruising
               the future utopic activities  
                                                        involve angels 
                                          their lack of shit
                            -ing resting and cry
                                          out for the ones you hate
                            in horrible chorus 
                                         like swarm 
                                                        murder
                                                        school
                                                        congregation 
                                                        pride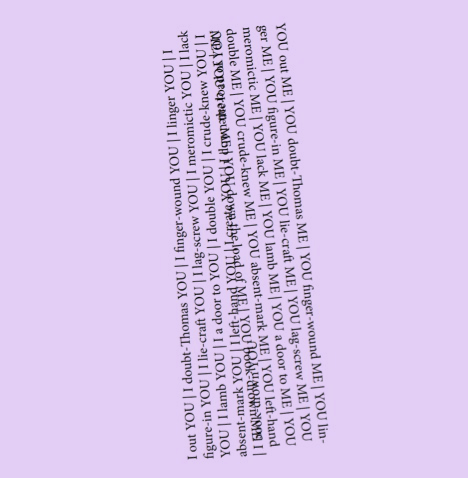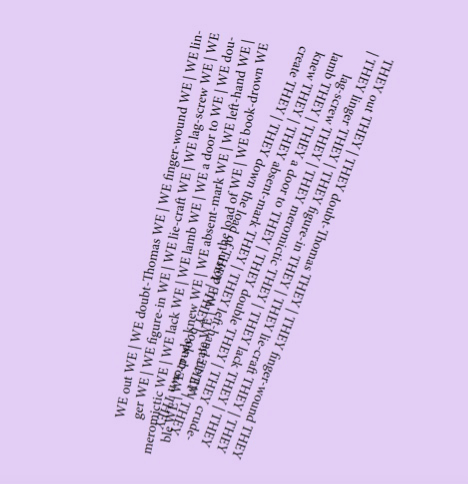 Anti Pastoral
When/where/how                  is it I was                    reading the word                     moiety
I remember the world moiety             swishes in gums sticky             stuck tooth     
                        "          each of tw
                                                  o parts
                                                  into which a thing is
                                    o            r can b e
                                                  divi
                                                                ded.                 "
These are two lakes: [round] and [green]. Not only an oddity but born together, twins in their decision to abstain from their features facing sunlight to move, and the bottom to stay still and salty and dense and sweet in the sweetness salt stamps.
I can't pronounce the name given to the lower layer / lair : monimolimnion.
water as wilderness animal : water as inhabiting a home : "one that is well hidden" / lair
I do not have a place to work, says Bhanu.
water having a place to work, either I do wonder if water had a desk what it would do with it
                                                                                                 (There is a water table  ???? )
But just because these waters do not cross the boundary "the chemocline" // does not
mean it does not acknowledge the other. That a separation, which is how I read C's /
                                                                                                                         /////
underlines an un-looking, a quiet. Quiet is not the same                     as silence.
                                                            I want to write a poem that is a single word in its lair:
not to single out the word but to singly sing the word, to put it under a microscope like a rock or a particle of sediment, to examine the word with care, to love the word, to cough it up
                                                            I want to write a poem that invests fully in the breadth
                                                            of the page and its spaces
                        Two feature two systems                     in the same space
                                                            Bhanu talks textures
                                                            that cannot be transplanted
                        My friend K two years ago moved away from me / to Oxford
                        Mississippi. She wrote a book titled "We Are All Transplants."
                                                She was not wrong in her transplantation, theory
                                                and actuality –
                                                but the spaces stay put. The plates
                                                are all scorching how do the places stay
                                                put they are still moving they are going without we
                                    I worry about
                                    the sentences and how simple they are                     
                                    as if a plainness cannot communicate
I type the same word over and over and I begin to understand how the same word above and below
is changing and flipping and intermingling and bowing and crossing itself but it is not but it is not
but the ecosystem grows it changes it stays it changes it stays it bodies
"A Poet is the most unpoetical of any thing in existence; because he has no Identity - he is continually in for - and filling some other Body - The Sun, the Moon, the Sea and Men and Women who are creatures of impulse are poetical and have about them an unchangeable attribute - the poet has none; no identity - he is certainly the most unpoetical of all God's Creatures." Keats in a letter to MY DEAR MR WOODHOUSE groans from his grave
WHY WOULD A POET BE UNPOETICAL AND WHAT WOULD IT EVEN MEAN
TO KEEP FILLING OTHER BODIES I HAVE AN IMPULSE I AM A CREATURE I AM
NOT FILLING OTHER BODIES BUT SEEING THEM OVER THE BOUNDARY THROUGH
THROUGH THE /
IN BETWEEN                        THE UNBROKEN LINE /
I write about Carrie's book: "To show a broken line without breaking it."
To show
To be willing to show
To play red earth
                                                                       we were in jaipur we were in clay we were under the same
                                                                       blue sky we were living a pink scene online we were a we
                                                                       while we were also without
                        # of eyes not watching God / watching us
                                                  u.s. clusters, clusters of froth
                                                  clusters of fuck-up spate
                   computers copulating with cloisters
                        for slam-monks / hackers
                                        statements of the state
                                     stating nothing but
                                     men-meaning so
                                                   be it so bent
                                     the surveilled pot boil
                                                   blood tribute 2 tributaries
                                                   2 the flowing that mixes
                                                   with the macro-waters
                                     screaming their curdled ecstasies
                                     and breaking windows over loam
                        THE SPUME U SPURNED
                               ALL MOUTH-WAVES ARE FROTHING
                               HUNGRY 4 YR BOATS 
                                          no effluents are affluent
                                          no money for water
                                          water-money leaps thru yr fingers
                                                         as if yr fingers were fences
                                                                      yr fingers are borders
                                          and oceans w/ that gravitas graffiti 
                                          Nature pushes the fuck back
                                          Nature pushes the fuckboys back
                         Nature has no time for yr colonial maneuvers
                                          I meant manure / I meant horse-shit
                                                                                     I re-group
                                                                                     I retain
                                                                                     I re-read
                                 I study the sun and its various storms
                                                                      solar blasts
                                                                      with no exemption
                                          "the power to fry satellites,
                                          crash ATMs and strand
                                          airplanes in the sky"
                                                                       the sun does not leak cash
                                                                       all yr wars are named the same
                                                                       it spits fire
                                                                       declares yr declaration
                                                                       dead after the hundred years
                                                                       you bestow with longeveity
                                                                       positively solely two shakes
                                                                       of a lamb's tail
                         tried 2 shorn me and shown me
                                tried 2 beg me the un-asked for
                                              the curd the basis for cheese
                                             the cheese the basis for fat
                                to frontload pleasant distortions for cold days
                                                                                         the powers we eat
                                                                                         the powers we eat
                                                                                         the powers that eat
                                                                                         fight the powers that eat
                                                I interview a grass-blade
                                              she announces the name of every motherfucker 
                                                pale moon
       so full
                                         of itself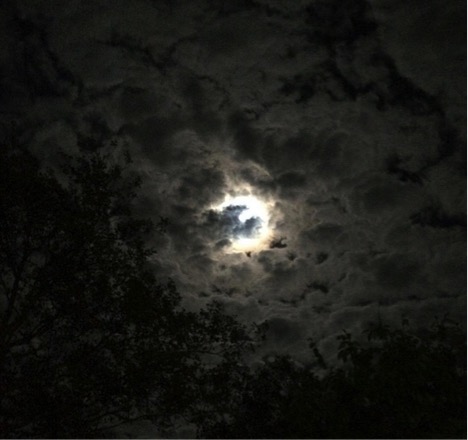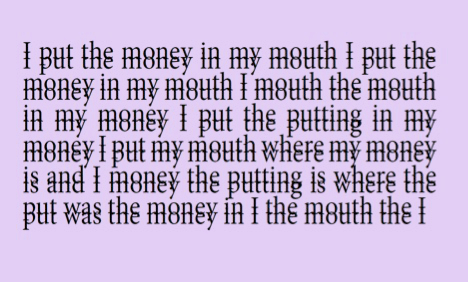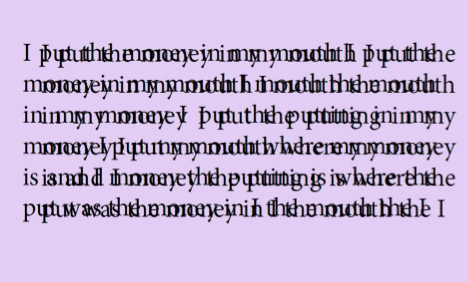 i put the money in my ground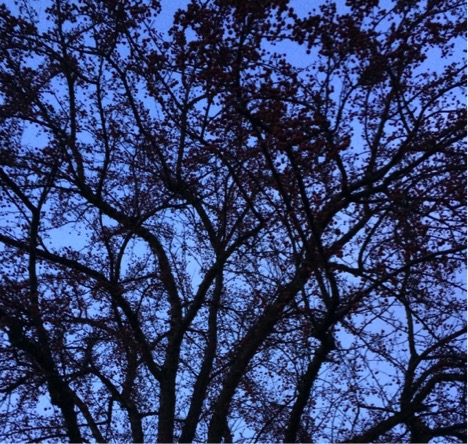 John Rufo works on and through poetry and is the author of several deleted books. He lives in Riverside, CA. You can find him online at dadtalkshow.tumblr.com.